Service Pipeline
What is Service Pipeline?
Service Pipeline is the concept that defines the variety of services that are currently under development in the service portfolio. The service pipeline is a futures based concept that defines the strategic future direction for the service provider. As part of the entire Service Portfolio, services that are taken from the pipeline and put into the service catalog. The Service Transition phases these pipeline services into operation. The pipeline is a good indicator of the overall health of the service provider, as it shows the services that are under development for customers or markets.[1]
The service pipeline does not represent a virtual suggestion box of good ideas. Instead, services in the pipeline are those that have been discussed and vetted between the business customer and IT, and a conscious decision has been made to charter a project to develop these services. The Service Management Organization (SMO) ensures that adequate processes are in place to gather feedback from customers and puts in place mechanisms to filter, prioritize, and ultimately funnel services into the pipeline. Likewise, the SMO routinely evaluates to ensure that services in the pipeline are developed into live services and are offered (and made customer visible) in the service catalog.
The figure below illustrates where the Service Pipeline fits in the Service Lifecycle.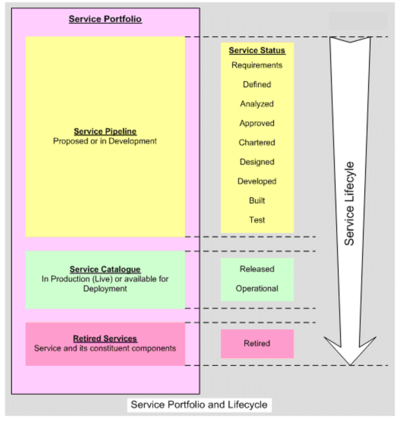 source: ITIL News
See Also
References