Corporate Strategy
A corporate strategy entails a clearly defined, long-term vision that organizations set, seeking to create corporate value and motivate the workforce to implement the proper actions to achieve customer satisfaction. In addition, corporate strategy is a continuous process that requires a constant effort to engage investors in trusting the company with their money, thereby increasing the company's equity. Organizations that manage to deliver customer value unfailingly are those that revisit their corporate strategy regularly to improve areas that may not deliver the aimed results.[1]

Corporate strategy is hierarchically the highest strategic plan of the organization, which defines the corporate goals and ways of their achieving within strategic management.[2]

The role of corporate strategy is to ensure that the value of the enterprise as a whole is more than the sum of its parts. Corporate strategy is an ongoing process—particularly given today's volatile competitive environments. Consistently delivering value creation that outpaces peers demands that organizations enhance their capabilities and regularly revisit their strategies.Developing a winning corporate strategy requires a relentless focus on value creation—and thoughtful attention in three important areas.

Types of Corporate Strategy[4]

Combination Strategy: Adapting strategy based on market conditions

Why Corporate Strategy[5]
Strategic management is basically needed for every organization and it offers several benefits.

Corporate Strategy Framework (see figure below)[6]
In developing corporate strategy, the first task is therefore to assess the current level of fit between the characteristics of the parent and its businesses (Exhibit 2). What is different and unusual about the parent? How do most senior managers think about their roles? What "mental maps" do they have regarding business success, appropriate responses to problems, and the nature of unexploited opportunities in the businesses? What systems and processes link the parent with its businesses and how are they used in practice? Understanding the characteristics of theusinesses is equally important. In contrast to traditional portfolio matrix views, our focus is not on the businesses per se (such as whether they are in growth areas or have advantaged positions), but on the influence, positive and negative, that a parent is likely to have on them. All businesses will have some improvement opportunities, but which of these opportunities could be realized only with the help of a parent? What is the underlying reason why business-level managers need help in addressing a particular opportunity? What is the nature of the help they need? Successful parents have clear insights regarding these questions, but there is no magic formula. Different parents have different insights: the chosen role of the parent at Canon is completely different from that of Hanson or Unilever. However, successful parents all seem to focus on a small and internally consistent set of insights that enable them to become specialists. This contrasts significantly with less successful parents, which are less focused and less clear about their own roles. While they attempt to add some value through budget reviews, an"informed second opinion," or the pursuit of general synergies, in reality their intervention is often unhelpful or distracting. Without specific insights about how it can add value, the parent is likely to destroy it. But simply having insights is not enough. The fit must extend from intention to behavior. BTR, a widely diversified international group, provides an example. While many companies may share BTR's insights about improving attention to productivity and product profitability in mid-tech, stable businesses, few have the relevant parenting characteristics to deliver against these aspirations. BTR itself has developed skills and tools that make it unusually capable in this particular role. Its profit-planning system, ratio packages, and review process have been fine-tuned over many years. Of equal importance is its cadre of battle-hardened group chief executives – a resource that is hard for others to replicate. The company's culture is noted on the boardroom clock: "Think of rest and work on."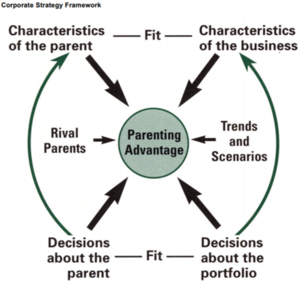 source: Arthur D Little

The Importance of Corporate Strategy[7]
The importance of a corporate strategy hinges on its being an effective means to allocate a company's resources, establish business expectations and improve a company's competitive position, as well as increase shareholder value to something beyond the sum of its physical assets.

Corporate Strategy vs, Business Strategy[8]
The fundamental differences between corporate and business strategy are explained in the points here under:
The business strategy focuses on competing successfully in the market place with other firms. On the contrary, corporate strategy stresses on increasing profitability and business growth.
See Also
Strategy
Business Strategy
IT Strategy Framework
Business IT Alignment
IT Governance
Enterprise Architecture
e-Business Strategy
IT Capability
Business Capability
References
Further Reading