Employee Value Proposition (EVP)
Employee Value Proposition (EVP) is usually defined as a set of monetary and non-monetary benefits provided by an organization to its employees, in return for the skills, capabilities, and experience they bring and the contributions they make to the organization. However, this definition is rather outdated. The modern definition of Employee Value Proposition is that it is an ecosystem of support, recognition, and values that an employer provides to employees to achieve their highest potential at work. The key difference here is that EVP should not be looked at as a two-way transaction, but as a comprehensive set of employer offerings that boost employee engagement and bring out the best in employees. An effective EVP helps organizations and recruitment professionals in establishing a strong employer brand.[1]An employee value proposition (EVP) is about capturing the spirit of your organization – what it stands for and what sets it apart from the rest. A strong employee value proposition is a very effective HR management tool.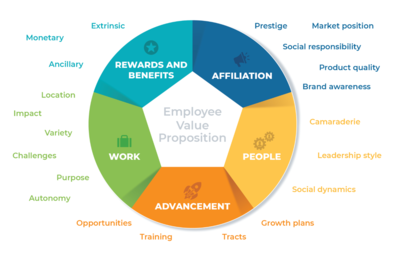 source: SMARP
Other Definitions of Employee Value Proposition (EVP)
DiVanna (2002) defined the employee value proposition (EVP) as the talent a company needs to exist to support the corporate value proposition.[3] DiVanna (2003) later refines the definition of the EVP as a portfolio of skills and experiences which can be considered as Assets and incorporated into a company's balance sheet. DiVanna and Rogers (2005) provides additional clarity of the EVP as the value of the employee centers on the simple premise that an individual must be self-aware of their contribution to the firm under the present set of business conditions. More importantly, to keep the firm competitive, employees must also be cognizant of the firm's future directions and prepare to add value in new ways under a variety of emerging business conditions.
Minchington (2005) defines an Employee Value Proposition (EVP) as a set of associations and offerings provided by an organization in return for the skills, capabilities and experiences an employee brings to the organization.
Tandehill (2006) reinforces EVP's link to employer branding, and urges all organizations to develop a statement of why the total work experience at their organization is superior to that at other organizations. The value proposition should identify the unique people policies, processes and programs that demonstrate the organization's commitment to i.e., employee growth, management development, ongoing employee recognition, community service, etc. Contained within the value proposition are the central reasons that people will choose to commit themselves to an organization. The EVP should be actively communicated in all recruitment efforts, and in letters offering employment, the EVP should take the focus away from compensation as the primary "offer".
Pawar and Charak (2015) define the employee value proposition as the one of a kind arrangement of benefits an employee gets consequently for the skills, capabilities, and experience they convey to an organization.
Elements of an Employee Value Proposition[2]
A strong Employee Value Proposition consists of various elements. Together, these attributes determine how both your employees and candidates will perceive your organization as an employer. Gartner distinguishes the following five key elements of an Employee Value Proposition:
Compensation: This attribute, also referred to as compensation and benefits, includes your employees' satisfaction with their salary, but also additional rewards such as bonuses and aspects such as your evaluation system. Fair and performance-based compensation is one of the 7 HR best practices. Interestingly, compensation may not be equally important to everyone. There are generational differences in the workforce, with the younger generations valuing for instance development more than the older generations.
Work-life balance: This is about benefits. Think about everything from paid time off and holidays to flextime options and retirement plans. When it comes to the kind of benefits employees value most, flexible hours, the opportunity to work from home, vacation time and paid parental leave all rank highly. There's no magic, one-size-fits-all kind of benefits recipe, however. New parents probably value different benefits than graduates, so try to customize where possible.
Stability : Stability as in career stability, opportunities for your employees to further their career, develop themselves and employee training. Naturally, this is where your learning and development efforts come into play as well as possible mentoring/coaching initiatives you've developed within the organization.
Location: This component is about much more than the simple location of your office. You could think of it as location in the broadest sense of the word: a positive work environment, a certain level of autonomy, work-life balance, etc. In fact, the location element has a lot to do with the employee experience which relates to three environments: technology, physical space and culture (more about culture just below).
Respect: Respect is about positive relationships, support, and team spirit, among other things. More than just respect, it's about your company culture, what are your organization's core values and beliefs.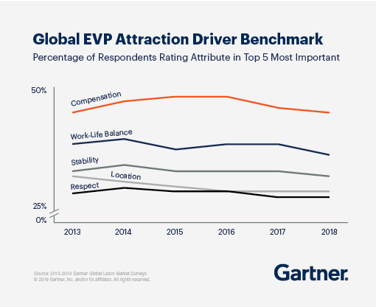 source: Gartner
Importance of Employee Value Proposition (EVP)[3]
Since attracting best talent is harder than ever, consistent and efficient communication of Employee Value Proposition (EVP) has become extremely important. Many recruiters and other HR Professionals now have planned strategies for communicating their EVP and Employer Brand with current and potential future candidates.
Relatively new methods for easier and more efficient delivery of these employer messages is called Inbound Recruiting, and the whole concept of using marketing methodologies to recruit and hire is called Recruitment Marketing. Recruitment Marketing methodologies are usually done through Recruitment Marketing tools and software that make this whole process easier and more productive. With these tools, it is easier to communicate Employee Value Proposition with candidates through engaging career site, automated email campaigns, social recruiting and many other channels. This way, recruiters can encourage Candidate Engagement and improve overall Candidate Experience.
Creating An Employee Value Proposition (EVP)[4]
Understand existing perceptions: Building a company culture to present in your EVP doesn't come solely from business leaders but from your team members living and breathing your business values. From your people, you will develop your ideal company culture from your vision to reality. To develop a strong, realistic EVP, you must first understand what perceptions your existing staff and potential employees have about your company brand and culture. For example:

Why are potential employees attracted to the company?
Why do existing employees think the company is unique?
What do they value most about working there?
Why do they stay?
Why do they leave?
This information can be gathered through employee surveys, focus groups and exit interviews, as well as through feedback from former employees and job applicants.
Determine key selling points: Establish a cross-functional team to review the research and determine the aspects of your business that people value the most. Building out your employer brand and defining this clearly within your EVP will give a clear sense of what your business embodies and how this might fit into a potential employee's values. Use this information to draft an EVP, ensuring the following questions are considered.

Does it align with your strategic objectives?
Does it differentiate your company?
Does it paint a realistic picture of what it's like to work for your company?
Is it inspirational?
Is it simple but broad enough to appeal to different groups?
Test your EVP with existing employees and a sample group from the external market to see if it adequately articulates why an individual would want to work for your company.
Communicate the message: Once your EVP has been defined, find creative and relevant ways to communicate it to the people you are trying to attract. Start by conveying it through all hiring channels such as company websites, advertising, and the interview process so that prospective talent can determine if they would make a good fit for yourbusiness. Consistently communicating a compelling EVP through branding, public relations, and marketing will also help the passive labor market form a positive perception of the value of working for your company.
Ensure alignment: Existing employees are your most powerful source of advertising and play a key role in helping to attract talent. To cultivate brand ambassadors, your employees must see consistency in the image you sell externally and in the day-to-day reality of working for your company. Incorporate the EVP into the company's induction plans, reward and recognition schemes, internal communications, policies, and business plans, so that it is reflected in the way your company conducts its daily operations. Review your EVP annually to ensure that it continues to reflect the changing employee experience.
Employee Value Proposition Examples[5]
Chevron
Chevron is a multinational energy corporation that's active in more than 180 countries. On their careers page, the energy employer states: "At Chevron, you'll team up with some of the best and brightest in locations around the world to create innovative energy solutions." They also promise a "truly global and collaborative" work experience to potential and current employees. A commitment to diversity in a traditionally male-dominated industry is what makes Chevron's EVP stand out next to competitors. A recent EY report shared that only 11% of the top global oil and gas senior executives are women—and Chevron aims to do something about that. Along with a global staff that's 25% women, the company has a "Welcome Back" program for women reentering the workforce. When asked about their impressive, long-standing commitment to diversity and inclusion in the workplace, Chevron's chief diversity officer replied: "The desire is to create a culture where everyone can be their best and be included. When everyone's in, everyone wins."
Trader Joe's
Trader Joe's is an American chain of grocery stores with more than 500 stores nationwide. They're widely recognized as one of the best retail employers (with one of the best retail employer brands) thanks to the numerous benefits offered to crew members. Trader Joe's has an exceptional EVP, and they're very transparent about each benefit they offer. For example, they're committed to providing bi-annual reviews, with the average crew member having the potential to receive a 7%-10% pay increase each year. There is also a strong emphasis on growth opportunity—the company promotes based on performance and prioritized career development. From the careers page: "We prioritize the development of our crew members. We don't pigeonhole crew members into "only running the register" or "only stocking the shelves"; our crew engage in a variety of tasks and hold a range of responsibilities—running the register and stocking the shelves, of course; also merchandising, creating signs, accepting deliveries, demoing products, and engaging with customers." Building an inclusive culture where every employee can perform to their full potential is in the center of Trader Joe's employee value proposition.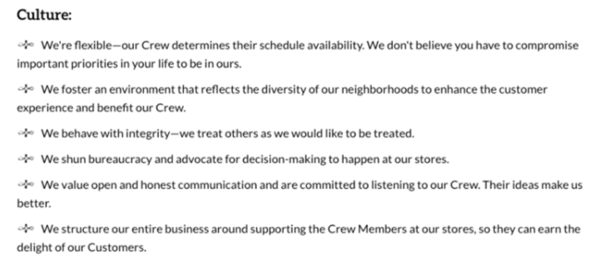 Unilever
Unilever is a British-Dutch transnational consumer goods company and the seventh most valuable organization in all of Europe. The company emphasizes the opportunity to work alongside brilliant, inspiring leaders, with four pillars designed to bring the EVP to life. Their website breaks it down like this: "Unilever is the place where you can bring your purpose to life through the work that you do, creating a better business and a better world. You will work with brands that are loved and improve the lives of our consumers and the communities around us." When asked about their efforts to launch a new EVP, Unilever's Head of Global Talent Attraction and Employer Brand explained: "At the heart of our value proposition is that we build leaders. We develop leaders for Unilever, and Unilever leaders go on to be leaders elsewhere in the world."
Shopify
Shopify is a Canadian multinational e-commerce company with a platform for online stores—not to mention an awesome EVP! The company offers unique benefits designed to help employees and their family members stay healthy, like self-directed learning, growth budgets, and fully catered meals. But that's not the only thing that makes Shopify's employee value proposition great. At Shopify, personal growth is more than just a nice idea—it's a core value. The Shopify culture is focused on individual growth and the impact each employee has. From their careers page: "We started out as a few people, obsessed with personal growth. Today, that same pursuit of personal growth drives thousands."
See Also
Employee
Employability
Employee Assistance Program (EAP)
Employee Attitude Survey
Employee Benefits
Employee Development
Employee Engagement
Employee Selection
Employee Stock Options
Employee Stock Ownership Plan (ESOP)
Employee Turnover
Employee Value

References