Enterprise Information Management (EIM)
Gartner defines Enterprise Information Management (EIM) as "an integrative discipline for structuring, describing and governing information assets across organizational and technological boundaries to improve efficiency, promote transparency and enable business insight."[1]

Enterprise information management (EIM) is a field of interest within information technology. It specializes in finding solutions for optimal use of information within organizations, for instance to support decision-making processes or day-to-day operations that require the availability of knowledge. It tries to overcome traditional IT-related barriers to managing information at an enterprise level. EIM combines enterprise content management (ECM), business process management (BPM), customer experience management (CEM), and business intelligence (BI). Whereas BI and ECM focus on the management of structured and unstructured information respectively, EIM does not make this distinctions but approaches the management of information from the perspective of the whole enterprise.[2]

The Need for Enterprise Information Management (EIM)[3]
EIM is a mature field, but the arrival of big data has made the need for enterprise information and data programs absolutely essential within the organizations. Should a company choose one or few components of EIM before committing to big data strategy and then incrementally adopt the rest of EIM? Or, should a company focus on EIM before committing to big data? For success, both appear to be necessary. The enterprise information management program doesn't have to be large, but it must continuously progress and be sustained to be of any value to the company, especially when combined with an analytics or big data initiative. The reasons for the critical need for EIM as a success factor for any company aspiring for success with their analytics and big data initiatives are:
The focus of EIM on enterprise governance of mission-critical data with standards and policies makes it possible for the company to utilize that data for decision making. Achieving a high level of data quality enables the company to to trust the data analytically and operationally.
The organization of commonly utilized data into MDM (Master Data Management) structures to allow cross-sharing and decrease possible errors and redundancy.
Business intelligence and data warehousing strategies that are founded on EIM standards and best practices to enable the business units to share analytical data as required without worrying about the differences in metadata or technology challenges.

Features of Enterprise Information Management (EIM)[4]
There's no 'silver bullet' solution for optimum EIM software. At the enterprise level, even basic information management can be a headache. And as technology advances, finding the best way to create, use and share that information has long since moved from a 'nice-to-have' to an essential part of any corporation's IT Strategy. There should be six key pillars for successful EIM. Each individual enterprise will need to customize their own solution to meet their specific business needs, using:
Enterprise Content Management (ECM): Allows you to establish the best central location for all your content (on-premise or in the cloud) and set up the best processes for you to create, collate, manage and share it.
Business Process Management (BPM): Allows you to automate your day-to-day business processes to increase business agility and responsiveness while reducing the risk of human error and business inefficiency.
Customer Experience Management (CEM): Allows you to deliver the correct level of omnichannel, personalized and targeted experience demanded by your customers today. You can take control of all elements of customer communications at every stage of their customer journey.
B2B Integration: Allows you to build and extend your trading partner networks to ensure the smooth and fast transacting of business anywhere in the world. You can work closely and collaborate with customers, suppliers and other partners using a central and secure platform for all information exchange.
Discovery: Allows you to take control of all information within your organization and make it available when required for eDiscovery, auditing and compliance purposes. You have advanced processes and tools to help you search, extract, classify, review and analyse the content you need, when you need it.
Analytics: Allows you to gain actionable insight that leads to better decision-making in every part of your enterprise. You have a range of advanced analytics tools to provide analysis quickly to the people who need it, in a format they can understand and on the device they require.

Functions of an EIM Framework (Figure 1.)[5]
It is critical to note that EIM is not a single technology or component but a framework of disciplines for information management across the enterprise (see figure 1). It is important to have this framework to guide the development and implementation of an EIM program. The scope, extent and scale of the EIM components vary across organizations due to the varying requirements, size, means and experience of the organizations. While all these components must be considered when developing an EIM program, not all will require the same degree of emphasis for every organization. The following EIM framework represents a very effective way to structure and manage an EIM program.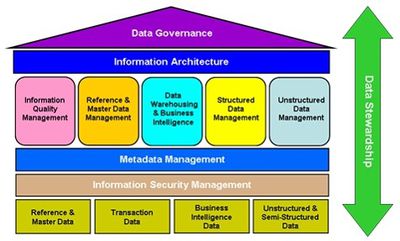 Figure 1. source: EIM Institute

The functions or components of an EIM framework are:
Data Governance– Data Governance is the exercise and enforcement of authority over the management of data assets and the performance of information management functions. The data governance function controls how all other information management functions are performed. Data governance is at the heart of effectively managing the enterprise data resource.
Data Stewardship– Data Stewardship is the enterprise role that ensures organizational information and metadata meet high levels of quality, accuracy, format and value criteria; ensuring that information is properly defined and understood (standardized) across the enterprise.
Information Architecture– Information Architecture is the function of defining and using master blueprints for semantic and physical integration of enterprise data assets (e.g., enterprise data model, enterprise data flows). These master blueprints provide a clear definition of how the data is structured, collected, shared, maintained, and stored from both the IT and business community perspectives.
Metadata Management– Metadata is the data context that explains the definition, control, usage and treatment of data content within a system, application or environment throughout the enterprise. Metadata management enables other EIM components in the framework and provides the characteristics to measure information quality. Metadata is the fabric that interconnects all of the other components of EIM and promotes the enterprise use of information management tools and techniques.
Information Quality Management– Information Quality Management is the function for defining data quality metrics, analyzing and profiling data quality, certifying and auditing data quality service levels, cleansing data proactively and reactively, identifying data quality requirements and ensuring source system requirements are met.
Reference & Master Data Management– This functional component controls the capture, storage, synchronization and usage of the core business entities of the enterprise. Master data (i.e., reference data) provides the context for transaction data and business intelligence. Master data consolidates disparate data between heterogeneous data sources. Master data management ensures the quality and use of controlled reference data values and their business meaning (i.e., metadata).
Data Warehouse / Business Intelligence– A Data Warehouse is a system designed for archiving and analyzing an organization's historical data, such as sales, salaries, or other information from day-to-day operations. This functional component is responsible for establishing, controlling and supporting the data needed for analysis, data integration, information delivery, as well as supporting the usage and tools.
Information Security Management– Information Security ensures privacy and control of data by establishing, implementing, administering and auditing policies, rules and procedures (e.g., role and row level security) within the enterprise.
Structured Data Management– This functional component is responsible for managing physical structured data resources, including:

Development Lifecycle Services – designing physical databases, defining SOA data services, maintaining production, development and test environments, controlling configurations and change, creating test data, validating data requirements, migrating and converting data
Data Lifecycle Services – external data acquisition, backup and recovery, performance monitoring and tuning, storage management, archive management
Data Infrastructure Services – data technology installation, administration and support

Unstructured Data Management– This functional component covers a broad range of related disciplines (conceptual and physical), including management of documents, reports, images, forms, records, email, spreadsheets, web pages, XML documents, geospatial data and the collective knowledge of the enterprise.
Once these framework components are in place, the keys to an effective EIM program include business participation, business impact, technologies and education. Real and effective business participation means executives and key managers must not only be empowered with ownership, but with measurable accountability. Those charged with participating, due to their strong knowledge and expertise of the business must also define the procedures, polices, data concepts and requirements for the EIM program. The amount of business impact the EIM program can have on the enterprise varies from one organization to the next depending on their level of maturity. It is imperative that organizations define the business impact and measurement criteria from the beginning of the EIM program in order to quantify the initiative value to the organization.

EIM and Data Protection[6]
Nations and economic zones like the European Union (EU) have become more active in their regulation of data in the digital age. New regulations like the General Data Protection Regulation (GDPR) now require dedicated data protection officers (DPO) to set the retention periods and access rights within an organization for personal data. EIM has emerged as one possible compliance solution for these regulations. In general, regulations around the use of personal data are becoming more restrictive as governments are adjusting to the concepts of digital footprints and big data. In this environment, where data can yield significant insights, efficiencies, and profits, companies are leaning on technology like EIM to maintain compliance while still being able to use the data.

The Challenges of Enterprise Information Management (EIM)[7]
Without the proper tools, policies, and procedures in place, true enterprise information management will be an elusive goal. For example, the disparate, siloed systems and documents that exist in most companies today make it difficult for businesses to ensure that information is:
Accurate – Lack of control over how data is created, updated, and stored causes serious information errors
Complete – An inability to reach all sources and combine and consolidate the data contained within them hinders the thoroughness of the information that stakeholders use to carry out their day-to-day activities
Consistent – Fragmented business applications often result in multiple versions of the truth and can negatively impact cross-departmental coordination, resulting in misinformed or incorrect business decisions
Relevant – To be valuable, information must first be useful. If employees cannot access the relevant, contextual data they need to perform their jobs, they will be less productive
Timely – Managed information becomes worthless if the information is not delivered in a timely manner when needed

Challenges and Remedies for EIM Dimensions (See Figure 2.)
Below is a diagrammatic illustration of the challenges and remedies for each EIM dimension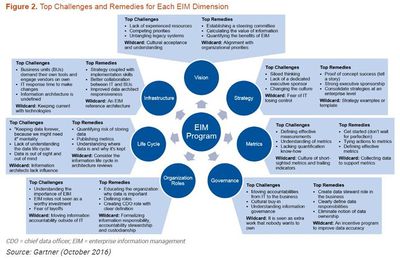 Figure 2. source: Doug Laney

Benefits of an Enterprise Information Management (EIM)[8]
The primary enterprise information management benefit for many organizations is the building of an efficient and responsive data management organization with enhanced capabilities for information creation, capture, distribution, and consumption. EIM can provide and preserve enterprise business information in a manner that is secure, easily accessible, meaningful, accurate and timely. EIM can also provide benefits in the following areas:
See Also
Enterprise Content Management (ECM)
Enterprise Information Integration (EII)
Enterprise Application Integration (EAI)
Enterprise Asset Management (EAM)
Enterprise Information System (EIS)
Information System (IS)
Information Management (IM)
Enterprise Architecture
Enterprise Integration
Enterprise Data Integration (EDI)
References
Further Reading