Industrial Internet of Things (IIoT)
The Industrial Internet of Things (IIoT), also known as the Industrial Internet, brings together brilliant machines, advanced analytics, and people at work. It's the network of a multitude of industrial devices connected by communications technologies that results in systems that can monitor, collect, exchange, analyze, and deliver valuable new insights like never before. These insights can then help drive smarter, faster business decisions for industrial companies.[1]
The idea of the industrial internet of things is based on the idea that the internet of things is uniquely useful to industry. For example, when General Electric chief executive Jeff Immelt calls the internet of things "beautiful, desirable and investable" in a Forbes piece posted in 2016, he's describing some of the functionality that has led to today's smart factories and facilities. The industrial internet of things applies the idea of broad-spectrum internet connectivity to specific business goals and processes that create physical goods for markets. Many experts believe that the industrial internet of things will continue to make up a significant part of the multi-trillion dollar market that the internet of things currently represents.[2]

History of IIoT[3]
The history of the IIoT begins with the invention of the programmable logic controller (PLC) by Dick Morley in 1968, which was used by General Motors in their automatic transmission manufacturing division. These PLCs allowed for fine control of individual elements in the manufacturing chain. In 1975, Honeywell and Yokogawa introduced the world's first DCSs, the TDC 2000 and the CENTUM system, respectively. These DCSs were the next step in allowing flexible process control throughout a plant, with the added benefit of backup redundancies by distributing control across the entire system, eliminating a singular point of failure in a central control room.
With the introduction of Ethernet in 1980, people began to explore the concept of a network of smart devices as early as 1982, when a modified Coke machine at Carnegie Mellon University became the first internet-connected appliance, able to report its inventory and whether newly loaded drinks were cold. As early as in 1994, greater industrial applications were envisioned, as Reza Raji described the concept in IEEE Spectrum as "[moving] small packets of data to a large set of nodes, so as to integrate and automate everything from home appliances to entire factories".
The concept of the internet of things first became popular in 1999, through the Auto-ID Center at MIT and related market-analysis publications. Radio-frequency identification (RFID) was seen by Kevin Ashton (one of the founders of the original Auto-ID Center) as a prerequisite for the internet of things at that point. If all objects and people in daily life were equipped with identifiers, computers could manage and inventory them. Besides using RFID, the tagging of things may be achieved through such technologies as near field communication, barcodes, QR codes and digital watermarking.
The current conception of the IIoT arose after the emergence of cloud technology in 2002, which allows for the storage of data to examine for historical trends, and the development of the OPC Unified Architecture protocol in 2006, which enabled secure, remote communications between devices, programs, and data sources without the need for human intervention or interfaces.
One of the first consequences of implementing the industrial internet of things (by equipping objects with minuscule identifying devices or machine-readable identifiers) would be to create instant and ceaseless inventory control. Another benefit of implementing an IIoT system is the ability to create a digital twin of the system. Utilizing this digital twin allows for further optimization of the system by allowing for experimentation with new data from the cloud without having to halt production or sacrifice safety, as the new processes can be refined virtually until they are ready to be implemented. A digital twin can also serve as a training ground for new employees who won't have to worry about real impacts to the live system.

How Industrial Internet of Things (IIoT) Works[4]
A growing number of companies are looking to harness the power of the IIoT. By using machine learning, Big Data, and automation technologies to create a "system of systems" that can accurately and consistently capture, analyze, and transmit data, they hope to achieve greater efficiency, sustainability, and quality control across the supply chain. The IIoT is the next big evolution in performance and operations, employing existing technologies such as advanced computing, intelligent sensors, mobility applications, cloud-based platforms, and enterprise digitization to help turn data into actionable knowledge. At the heart of this approach are several key elements:
Smart and secure collaboration
Predictive analytics
Data management and onsite control
Smart and connected assets and devices.
An effective IIoT strategy relies on consolidating data in the cloud from multiple disparate systems, applying higher level analytics and leveraging experts who are often physically remote from the plant site. Predictive analytic solutions can transform work processes from manual and reactive to automatic and proactive, helping to avoid unplanned downtime and improving performance and safety. They allow businesses to keep closer track of everything going on in the plant, at remote locations, at subcontractor and supplier facilities, and on goods in transit anywhere in the world.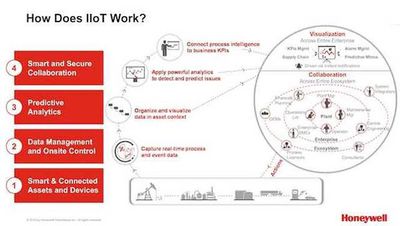 source: Honeywell

Industrial Internet of Things (IIoT) Applications[5]
Like previous industrial revolutions, the IIoT will allow for greater automation of previously human-intensive work, creating greater productivity per man-hour invested. Some potential applications:
Smart Farming: Making use of the vast amounts of information from crop yields, soil-mapping, fertilizer applications, weather data, machinery, and animal health, to improve yields and cut costs in the modern farming environment.
Smart Manufacturing: Using the industrial internet to create a fundamental shift in how products are invented, manufactured, shipped and sold. Intelligent networks will power the value chain – connecting people, processes and data and generating new best practices.
Smart Cities: Cities could stand to benefit significantly from connecting people, processes, data, and things together. City assets such as libraries, transportation systems, power plants, water supply networks, waste management systems, law enforcement, hospitals and other community services could feed off each other. Local governments will understand what is happening on micro and macro levels, and how the city is evolving.
Smart Energy: Power generation can be improved by combining sensors, big data, and connectivity. Imagine wind farms that make slight mechanical adjustments to capitalize on the small changes in wind velocity or direction, to be more efficient – this is only scratching the surface of what is possible.

Why Industrial IoT?[6]
For any business that deals with the production and/or transportation of physical goods, IIoT can create game-changing operational efficiencies and present entirely new business models. The following are examples of ways in which IIoT technology could be applied in diverse industries.
Production – This is the industry in which most IIoT technology is currently being implemented. IIoT-enabled machines can self-monitor and predict potential problems. This means less downtime and greater overall efficiency.
Supply chain – With sensor-managed inventory, IIoT technology could take care of ordering supplies just before they go out of stock. This decreases the amount of waste produced while keeping necessary goods in stock and frees up employees to focus on other tasks.
Building management – IIoT technology could make building management simpler and more secure. With sensor-driven climate control, the guesswork and frustration involved in manually changing a building's climate will be eliminated. Additionally, devices that monitor entry points in the building and respond to potential threats quickly will increase the building's security.
Healthcare – With devices that monitor patients remotely and notify healthcare providers as soon as patients' statuses change, IIoT could cause healthcare to become more precise and responsive. Eventually, AI may even be able to take over patient diagnosis, meaning doctors are able to treat them sooner and more effectively.
Retail – IIoT technology has the potential to make quick, intelligent marketing decisions for individual stores. With storefronts that automatically update based on consumer interest and the ability to put together smart promotions, retail outlets that implement IIoT technology could gain a significant advantage over their competitors.

Security Concerns for IIoT[7]
IoT applications are generally built with and therefore inherit the lack of security of existing ICS devices. Existing IIoT networks are being augmented with existing ICS devices (without adequate security) to bring in additional data needed for big data analytics. Interconnected devices currently use custom protocols or gateways to get to universal protocols such as OPC Unified Architecture. Unfortunately, the custom protocols or gateways are often developed without sufficient security considerations.
The concept of IIoT comprises successive levels, along with their related security and operational issues:
Local area networks for collecting and locally processing data from connected ICS objects.
Security issue: lack of authentication and security in process sensors. Operational issue: Compromised data can lead to equipment damage, regulatory issues and personal safety hazards.
Transmission of data to the cloud via gateways.
Security issue: lack of security in protocols and gateways. Operational issue: Compromised data can lead to equipment damage, regulatory issues and personal safety hazards.
Processing and storage of data in the cloud by appropriate platforms and specific algorithms such as big data.
Security issue: lack of security of data. Operational issue: Compromised data can lead to equipment damage, regulatory issues and personal safety.
Interfacing between platforms and end users for monitoring.
Security issue: lack of secure communication protocols. Operational issue: Using the cloud for control can lead to unforeseen operational concerns.

Securing the Industrial Internet of Things (IIoT)[8]
While pushing for productivity in operations is essential for IIoT systems, security should be regarded as much. Connecting OT to the internet could make businesses more viable, with the help of the many sensors and connected devices at work and the real-time data that they generate. But failing to invest in cybersecurity could undermine the benefits. This is where security by design and embedded security approaches should come in.
Securing IIoT systems requires connected threat defense and end-to-end protection, from the gateway to the endpoint, that are able to provide:
Regular monitoring and detection in case of malware infection.
Better threat visibility and early detection of anomalies.
Proactive prevention of threats and attacks between IT and OT.
Secure data transfer.
A next-generation IPS to prevent attacks from exploiting vulnerabilities.
Server and application protection across the data center and the cloud.

Basic security reference architecture in the new IT/OT environment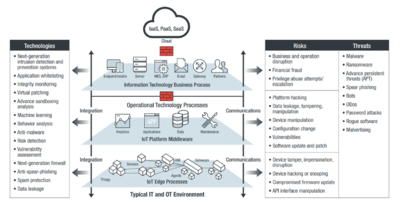 source: TrendMicro

Unique IIoT Challenges[9]
Because IIoT devices can have much longer service lives than consumer gadgetry – Canonical executive vice president of IoT and devices Mike Bell estimates the average at seven to 10 years – so any implementation has to be built to last. Even beyond the raw scale and longevity involved, the implementation process can be convoluted – the kind of back end necessary to make the most of data gleaned from instrumentation is a considerable undertaking in and of itself, and has to be undertaken in close coordination with the rest of the enterprise. It requires a dedicated strategy for collecting data from endpoints, storing it in an accessible format – whether in a data center or in the cloud – feeding it to the analysis engine, and having a way to turn insights from that analysis into actionable and timely information. There's a wide range of different formats and technologies that address different parts of the need for machine-to-machine communication among connected devices. Physical layer technology like Sigfox and Zigbee, software layers like Weave and IoTivity - all of it is necessary for a fully functioning IIoT environment, and it all has to be interoperable. Other factors that IT leaders are concerned about include the following:
Lack of standardization. As an attempt to graft newer technology onto old, there's a huge range of different designs and standards for everything from transmission protocols to ingestion formats. Simply put, if the gizmo that sends operational information about the temperature of a blast furnace isn't made by the same company that makes the network or the data ingestion engine, they might not work together.
Integration with legacy technology. Lots of older equipment isn't designed to provide data in a format that's legible for modern IIoT tech, so getting a decades-old power station controller to talk to a sophisticated new IIoT infrastructure could require some translation.
Money. As both of the above points highlight, fully embracing IIoT requires new hardware, new software and a new way of thinking about technology. The idea is to make money, but plenty of people are understandably worried by the up-front costs.
People. Getting the most out of IIoT often requires expertise in machine learning, real-time analytics, and data science - to say nothing of cutting-edge knowledge of networking technology.

Benefits of the Industrial Internet of Things (IIoT)[10]
The Industrial Internet of Things takes the benefits of the Internet of Things in general to a higher level and also to the industries with high-stakes where human error could result in massive risks. The precision level that can be achieved through the IIoT is one of the greatest advantages, that makes this discipline one of the most welcome gifts of IoT.
Times are not far whereby entire manufacturing plant operations and processes could be made to operate almost independently. Moreover, the Industrial Internet of Things is used for many use cases which help us reduce the exposure of human workforce, which will always matter, to scenarios with high industrial hazards. In the coming years, IIoT is likely to force more unified device protocols and architectures that will allow machines to communicate seamlessly and thereby enhance interoperability.
To summarize, here are some of the key benefits of IIoT in an industry context
Improved and intelligent connectivity between devices or machines
Increased efficiency
Cost savings and
Time savings
Enhanced industrial safety
More benefits and (thus) drivers in the image from a report by Morgan Stanley on the Industrial Internet of Things (see figure below)

source: i-scoop

The Future of the IIoT[11]
The IIoT is widely considered to be one of the primary trends affecting industrial businesses today and in the future. Industries are pushing to modernize systems and equipment to meet new regulations, to keep up with increasing market speed and volatility, and to deal with disruptive technologies. Businesses that have embraced the IIoT have seen significant improvements to safety, efficiency, and profitability, and it is expected that this trend will continue as IIoT technologies are more widely adopted.
The global Industrial Internet of Things (IIoT) market was valued at USD 312.79 billion in 2017 and is expected to reach USD 700.38 billion by 2023, witnessing a CAGR of 14.36% during the forecast period, 2018 to 2023. The scope of the study includes IoT spending by various industries on hardware, software, connectivity, and services. Industrial Internet of Things (IIoT) is a digital revolution, which is changing the way we live and work. Many companies have already started exploiting the opportunities it unfolds by extracting maximum value required for a big data approach. It is expected that the number of internet-connected devices will multiply to tens of billions in the near future. One reason for this growth is the combination of IIoT and big data analytics, which promises to further drive operational efficiencies, along with more innovation and, ultimately, new sources of revenue. The market for IIoT is set for tremendous growth in 2018 as more businesses realize its potential uses and the impact it can have on the global economy. Data-driven companies are already using IoT generated data, feeding them into their existing analytical pipeline and improving operational management and efficiencies, as well as reducing costs. The major challenges in implementing a big data solution primarily dependent on IoT devices are the storage of the colossal amounts of data being produced, running of analytical queries from such huge amount of data stored using highly complex storage technologies, and to perform advanced data analysis involving data mining and machine learning technologies to gain insights.[12]
See Also
Internet of Things (IoT)
Internet
Internet Crime
Internet Privacy
Internet Reputation
Search Engine
Search Engine Optimization (SEO)
World Wide Web
Dark Web
References
Further Reading