Digital Twin
A Digital Twin is a digital representation of a physical object or system. The technology behind digital twins has expanded to include large items such as buildings, factories and even cities, and some have said people and processes can have digital twins, expanding the concept even further. In essence, a digital twin is a computer program that takes real-world data about a physical object or system as inputs and produces as outputs predications or simulations of how that physical object or system will be affected by those inputs. Digital twin technology has moved beyond manufacturing and into the merging worlds of the Internet of Things, artificial intelligence and data analytics. As more complex "things" become connected with the ability to produce data, having a digital equivalent gives data scientists and other IT professionals the ability to optimize deployments for peak efficiency and create other what-if scenarios.[1]
Digital twins are emerging as the best way for enterprises to compound value from digital transformation initiatives. For the industrial enterprise, digital twin use cases are primarily being adopted across engineering, operations, and service – driving significant business value and laying the groundwork for digital transformation across the enterprise.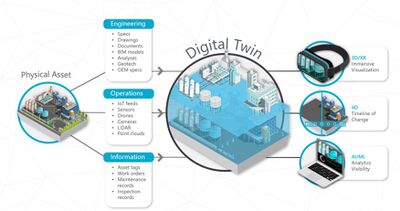 source: AEC Magazine
Origin of Digital Twin[2]
Digital twins were anticipated by David Gelernter's 1991 book Mirror Worlds. It is widely acknowledged in both industry and academic publications that Michael Grieves of Florida Institute of Technology first applied the digital twin concept in manufacturing. The concept and model of the digital twin was publicly introduced in 2002 by Grieves, then of the University of Michigan, at a Society of Manufacturing Engineers conference in Troy, Michigan. Grieves proposed the digital twin as the conceptual model underlying product lifecycle management (PLM).
The concept, which had a few different names, was subsequently called the "digital twin" by John Vickers of NASA in a 2010 Roadmap Report. The digital twin concept consists of three distinct parts: the physical product, the digital/virtual product, and connections between the two products. The connections between the physical product and the digital/virtual product is data that flows from the physical product to the digital/virtual product and information that is available from the digital/virtual product to the physical environment. A digital twin in the workplace is often considered part of robotic process automation (RPA) and, per industry-analyst firm Gartner, is part of the broader and emerging "hyperautomation" category.
Types of Digital Twin[3]
Digital twin can be broken down into three broad types, which show the different times when the process can be used:
Digital Twin Prototype (DTP) - This is undertaken before a physical product is created
Digital Twin Instance (DTI) – This is done once a product is manufactured in order to run tests on different usage scenarios
Digital Twin Aggregate (DTA) – This gathers DTI information to determine the capabilities of a product, run prognostics and test operating parameters
These over-arching types can offer a variety of uses including logistics planning, product development and re-design, quality control / management, and systems planning. A digital twin can be used to save time and money whenever a product or process needs to be tested, whether in design, implementation, monitoring or improvement.
The Importance of Digital Twin Technology[4]
Digital twins are powerful masterminds to drive innovation and performance. Imagine it as your most talented product technicians with the most advanced monitoring, analytical, and predictive capabilities at their fingertips. By 2018, companies who invest in digital twin technology will see a 30 percent improvement in cycle times of critical processes, predicts IDC.
There will be billions of things represented by digital twins within the next five years. These proxies of the physical world will lead to new collaboration opportunities among physical world product experts and data scientists whose jobs are to understand what data tells us about operations. Digital twin technology helps companies improve the customer experience by better understanding customer needs, develop enhancements to existing products, operations, and services, and can even help drive the innovation of new business. For example, GE's "digital wind farm" opened up new ways to improve productivity. GE uses the digital environment to inform the configuration of each wind turbine prior to construction. Its goal is to generate 20% gains in efficiency by analyzing the data from each turbine that is fed to its virtual equivalent.
"For every physical asset in the world, we have a virtual copy running in the cloud that gets richer with every second of operational data," says Ganesh Bell, chief digital officer and general manager of Software & Analytics at GE Power & Water. All indications seem to predict we are on the cusp of a digital twin technology explosion. More companies will learn of real-world and pilot program success stories and will want to deploy their very own digital twins to gain a competitive advantage.
Examples of Digital Twin Technology[5]
Companies use digital twin technology for many reasons including to improve ongoing operations, train employees and to test new products or procedures before launching them to the real world where it becomes more expensive and complicated to fix any issues.
Oftentimes artificial intelligence and machine learning are used to analyze the model of operations represented by the digital twin no matter where the real facility is located—even if the equipment is in space. NASA used pairing technology, the precursor to digital twin technology, from the earliest days of space exploration to solve the issue of operating, maintaining and repairing systems when you aren't near them physically. This was precisely how engineers and astronauts on Earth determined how to rescue the Apollo 13 mission. Today, digital twins are used at NASA to explore next-generation vehicles and aircraft.
Digital twin technology can help personnel get comfortable with Internet of Things implementation and automation because they have the opportunity to simulate the application prior to it going live. The lessons learned and opportunities uncovered through a digital twin can then be applied to the physical environment.
Since digital twins can give a real-time view of what's happening with equipment or other physical assets, they have been very helpful in manufacturing to reduce maintenance issues and ensure optimal production output. Chevron expects to save millions of dollars in maintenance costs from the digital twin technology they will have deployed on equipment by 2024 in oil fields and refineries.
Similar to the benefits in manufacturing, digital twins can revolutionize healthcare operations as well as patient care. A digital twin of a patient or organs allows surgeons and health professionals to practice procedures in a simulated environment rather than on a real patient. Sensors the size of bandages can monitor patients and produce digital models that can be monitored by AI and used to improve care.
At the Spring Festival Gala aired on China Central Television, the four human hosts were joined by an AI copy of themselves—their very own digital twin created by ObEN. They are more than computer-generated avatars because they used machine learning, natural language processing, and computer vision to build virtual copies of the hosts. Future applications for this technology include plans to build AI-powered teachers, nurses, and doctors.
Digital twin technology has even been deployed to refine Formula 1 car racing. In a sport where every second counts, a simulation can help the driver and the car team know what adjustments can improve performance.
There is even a digital twin of Singapore! Imagine all the variables that go into the management of a city. Digital twin technology helps city planners understand and improve the efficiency of energy consumption as well as many applications that can improve life for its citizens.
Benefits of Digital Twins[6]
Increased reliability and availability: Monitor, simulate and control an asset, process or network as an effective strategy to improve system performance
Reduced risk: Protect the health and safety of employees, the environment, and business objectives, by reducing asset- and process-related incidents and avoiding unplanned downtime
Lower maintenance costs: Predict issues before breakdowns occur, order parts, and schedule repairs at times that don't impact production goals
Improved production: Ensure product quality with insight into the performance of assets and processes in real-time to influence and react to customization and minimize impact on supply chain
Faster-time-to-value: Leverage industry expertise, easy-to-use tools, and the most complete Blueprint catalogue that provide the analytics and real-time capabilities that industry needs
See Also
Industry
Industry 4.0
Digital Asset
Digital Transformation (DX)
Digital Disruption
E-Strategy
E-Commerce
Digital Innovation
Innovation
Internet of Things (IoT)
Industrial Internet of Things (IIoT)
Automation
Artificial Intelligence (AI)
Machine Learning
Machine-to-Machine (M2M)

References