Holacracy
Holacracy is a system for organizational governance. It defines a framework of "rules" by which the people of a team work together: the team members use this framework to discuss and decide exactly how they want to function together. They constantly inspect and adapt their way of working. Holacracy ensures an efficient, constructive and clear process of self-organization.[1]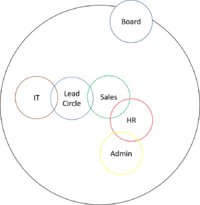 What is Holacracy?[2]
A holacracy provides a flat management structure that distributes authority. The goal of a holacracy is to ensure that those responsible for completing work are given the authority to decide how that work should be carried out. According to proponents, holacracies lead to greater efficiency, agility, transparency, accountability, employee engagement and innovation. Critics argue, however, that the model doesn't allow for sufficient lateral communication. To be effective, the roles, responibilities and expectations for group members in a holacracy are clearly defined, but flexible. Connecting roles, sometimes called link roles, sit in multiple groups and ensure that those groups are operating in congruence with the organization's overall mission and objectives.
The word holacracy comes from "holon," a term Arthur Koestler coined in his 1967 book "The Ghost in the Machine." A holon is an autonomous unit that is nevertheless a dependent/interdependent part of a larger whole. The suffix -cracy means "ruled by." Accordingly, a holacracy is an organization ruled by self-contained groups, just as a democracy (from the Greek "demos" for common people) is a system ruled by the people and a meritocracy is a system in which those individuals who demonstrate their worthiness have the power.
Brian Robertson then developed the concept and dynamics of holacracy while running a software development company named Ternary Software in the early 2000s. In 2007, he and Tom Thomison founded HolacracyOne and published the Holacracy Constitution three years later.
Organizations that have organized or reorganized as holacracies include Zappos, Amazon's footwear retail subsidiary; Medium, a social content sharing site developed by Twitter founders Evan Williams and Biz Stone; and Conscious Capitalism, a non-profit organization created by Whole Foods CEO John Mackey.
Essential Elements of Holacracy[3]
Roles instead of job descriptions
The building blocks of Holacracy's organizational Structure are roles. Holacracy distinguishes between roles and the people who fill them, as one individual can hold multiple roles at any given time. A role is not a job description; its definition follows a clear format including a name, a purpose, optional "domains" to control, and accountabilities, which are ongoing activities to perform. Roles are defined by each circle—or team—via a collective governance process, and are updated regularly in order to adapt to the ever-evolving needs of the organization.
Circle structure
Holacracy structures the various roles in an organization in a system of self-organizing (but not self-directed) circles. Circles are organized hierarchically, and each circle is assigned a clear purpose and accountabilities by its broader circle. However, each circle has the authority to self-organize internally to best achieve its goals. Circles conduct their own governance meetings, assign members to fill roles, and take responsibility for carrying out work within their domain of authority. Circles are connected by two roles known as "lead link" and "rep link", which sit in the meetings of both their circle and the broader circle to ensure alignment with the broader organization's mission and strategy.
Governance process
Each circle uses a defined governance process to create and regularly update its own roles and policies. Holacracy specifies a structured process known as "integrative decision making" for proposing changes in governance and amending or objecting to proposals. This is not a consensus-based system, not even a consent-based system, but one that integrates relevant input from all parties and ensures that the proposed changes and objections to those changes are anchored in the roles' needs (and through them, the organization's needs), rather than people's preferences or ego.
Operational process
Holacracy specifies processes for aligning teams according to operational needs, and requires that each member of a circle fulfill certain duties in order to work efficiently and effectively together. In contrast to the governance process, which is collective and integrative, each member filling a role has a lot of autonomy and authority to make decisions on how to best achieve his or her goals. Some have described the authority paradigm in Holacracy as completely opposite to the one of the traditional management hierarchy; instead of needing permission to act or innovate, Holacracy gives blanket authority to take any action needed to perform the work of the roles, unless it is restricted via policies in governance or it involves spending some assets of the organization (money, intellectual property, etc.) Holacracy is thus highly biased toward action and innovation: it defaults to autonomy and freedom, then uses internal processes to limit that autonomy when its use in a specific way turns out to be detrimental.
Holacracy specifies a tactical meeting process that every circle goes through usually on a weekly basis. This process includes different phases to report on relevant data, share updates on projects, and open discussions where any circle member can add to the agenda. A particular feature of this last phase, known as "triage", is to focus discussions on the concrete next steps needed by the individual who added the agenda item to address his or her issue. The intention is to avoid large, unproductive discussions dominated by the louder voices.
References
See Also