Organizational Realignment
Organizational Realignment is the process of changing the way a company does business. There may be multiple reasons for which management of an organization decides to undertake realignment - from underperformance to stagnation. It is the responsibility of the leadership to make sure that the various parts of the organization are aligned for it to function properly.

Successful Organizational Alignment
The parts of the organization that need to function smoothly:

When to Consider an Organizational Realignment[1]
"Sometimes managers and lower-level executives feel the pressure to initiate a redesign in their area simply so they don't seem complacent in comparison to others. When considering an organization redesign, identify your motivations to make sure that it's the right move, at the right time." - Reed Deshler
A skilled leader must understand what signs signal that their organization's choices are no longer aligned. Below is an illustration of the six signs that an organization may be in need of realignment

By monitoring key performance indicators and industry trends, leaders can determine if the time is right to realign their organization. Identifying the right time to act can be the difference between being the next Amazon…or the next Blockbuster.

Implementing an Organizational Realignment[2]
With any organizational realignment or restructuring the challenge and real work is in the details of implementation. There are risks, challenges and issues to identify, address and manage. Realignment can be as small as rearranging a few positions and responsibilities or a major re-positioning of large divisions, along with changes to their operating units, processes and position responsibilities. Below is a summary of guidelines to use for your particular realignment or restructuring implementation.
Document the End Result, Also Benefits and Negative Impacts. Have a specific, well documented and understandable (to all constituencies) description of the end result.
Manage the Implementation – Assign Responsibility and Authority, Also Necessary Resources. One position should be given authority and responsibility for managing the realignment implementation.
Have an Implementation Plan. Your implementation plan will lay-out your objectives, actions, timelines, milestones, responsibilities and points in the implementation when you review the status of the realignment implementation – what is going well, not going well and any adjustments to make. Your plan should also state the risks to a successful realignment and how you will monitor and manage these risks, including employees responsible for managing each risk.
Deliver Orientation and Training. If employees will be reassigned to new operating units and/or positions, give them the necessary orientation to the new operating unit and training if there is a change in their responsibilities.
Prepare Executives and Managers for Transferred Employees. Managers in work units to which employees are being transferred, should receive the necessary help in preparing for the new employees.
Have a Communications Plan. Identify all parties that should be informed at each stage in the realignment implementation process, and the timing and content for the communication.
Include Key Executives Early. Include your key executives in the initial considerations of how the realignment will be implemented and monitored. In any event, most of them should have important roles. Do not overlook IT.
Empower Employees and Listen to Them. Hopefully you included employees in considering and planning the realignment
Establish Trust. Organization leaders, particularly those directly involved in the realignment, must establish employee trust in their leadership, and also between employees.
Consider Human Concerns – Resistance to Change and Morale. Change, sometimes even minor organization change, can create uncertainty about the future, and causes fears about a job loss or the ability to succeed in doing something new. During the realignment closely monitor employee morale, interactions, comments and complaints. Implement whatever remedial action is necessary to address these issues which should be taken seriously.

Organizational Realignment Example[3],br /> The Japan Bank for International Cooperation (JBIC; Governor: Akira Kondoh) partially realigned the organizational structure and renamed some of the Groups, with a view to strengthening the governance framework and enhancing management control. The diagram below reflects the changes.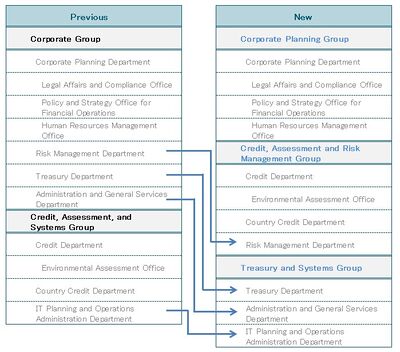 Source: Japan Bank for International Cooperation
See Also
References